It's hard to believe I'm saying this…but Book 8, Toast and Char, will be out this summer. Eight books down, one book (Water of Life) to go. In anticipation of the book's release, I wanted to share my account of a daytrip I took while researching the Bourbon Springs Series. This piece originally appeared in the back matter of Secret Sauce, the short story immediately following Secret Blend (Bourbon Springs Book 1).
Prent Oakes, the hero in Toast and Char is one of the owners of a cooperage—a business that makes barrels. The main independent cooperage in Kentucky is Kentucky Cooperage, operated by Independent Stave Company in Lebanon, Kentucky. I had heard about the cooperage from visits to Bourbon Trail distilleries and had checked out their website. But since I was writing about a guy who was part owner of a cooperage, I knew I needed to go and see the place for myself.
I watched a few videos online, but it wasn't enough to satisfy my nerdly brain. So one snowy winter day I headed south—and, not coincidentally, directly through the area where Bourbon Springs would be if it really existed. I do take a few geographic liberties in describing a few things—Bourbon Springs is fictional, after all—but I saw the sights I anticipated—rolling hills of the outer Bluegrass region mixed with the pointed Knobs to the south and west.
The tour at Kentucky Cooperage started in an employee breakroom—really. Part of the room had a little sitting area where the visitors were shown the same video that's available online. After watching that, we got a headset with speaker in it; we were going into very loud places. We started in the area where the barrels were assembled or raised, and saw a cooper do this. We then went to the area where the barrels were charred, five at a time. That day they were making barrels for Maker's Mark. The guide told us that they run one brand every day and that's all they'll run. After that, we were taken to inspection, where a field of new barrels, stacked two-high spread out through the warehouse. A cooper came and gave a demonstration of how to remove a defective stave (quite the mysterious puzzle to me). They seal any extra cracks or gaps with dried cattails! At the Kentucky Bourbon Festival in Bardstown in September 2015, I saw coopers from Kentucky Cooperage repairing barrels with cedar plugs in addition to cattails.
Then it was over. The tour was only about fifteen minutes long but interesting.
And what was the best part?
The smell!
All that wood—they steam it and, of course, set it on fire to char it (and, yes those barrels really burn). The scent was wonderful, like the most perfect fire you could possibly build in your own hearth. It was a deep, spicy, even food-like aroma that clung to me, through my hair and my clothes. It wasn't the same kind of scent one gets after being around a campfire. It was more akin to the kind of smell one has after cooking a really big dinner, like Thanksgiving, after roasting a very large piece of meat. It was that good.
Having time on my hands and knowing that a distillery was nearby, I hastened to Limestone Branch Distillery across town—the tour, like at the cooperage, was free. The distillery was new and small, but a veritable temple to bourbon. The place is owned by a couple of Beams and, as they are very proud to say, they are the only distiller-owner Beams at present. Limestone Branch was only opened in 2012.
Not only are the owners direct Beam descendants, they are direct Dant descendants, another legendary bourbon making family. The tour took as long to talk about history (there were two glass cases crammed with the coolest memorabilia—lovely old bottles! A copper yeast jug!) as it did to show us the operational distillery itself. These people revere their past, and it shows. As a history nerd, I was in heaven.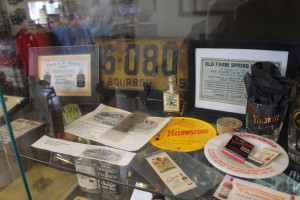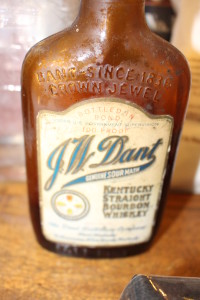 The distillery makes a lot of flavored products (they've partnered with Moon Pie to market flavored moonshines), which isn't my thing. So when it came to tasting, there was a bunch of flavored stuff. I was the only woman in the small group; several of the men along were in the area for a national farm equipment show in Louisville.
So what did these burly fellows drink as their free sample shots?
Yeah, the "girly" stuff: the flavored moonshines—banana, caramel, chocolate, apple, whatever. I got nothing against that stuff, but I wanted some straight corn. No straight bourbon was offered.
Who was the first to ask for the straight 'shine?
Yeah, ME.
Only after that did the guys ask for the 'shine. Insert eye-roll here.
The guide said the 'shine should go down smooth and then I should feel a warmth in my chest. Well, I felt the burn on my lips and in my mouth—not as smooth as claimed, but still pretty darned smooth for 'shine.
Before I left, one of the Beams came and talked to the group. I went out back and took a few pictures of the Knobs to the south. Very pretty country.
Limestone Branch Distillery is on the Craft Trail Tour, so I got a passport and got my first stamp. On my way to getting my Julep Cup—someday (the prize for completing the Craft Trail Tour).
I really want to get back to Kentucky Cooperage for another tour very soon. The problem is the heat. For example, it is supposed to through the 90s all this week in Bluegrass. Add the steamy environs of a cooperage to that kind of weather, and I'm not sure I can handle a tour. Maybe I can sneak down there on some rainy day.