If you live in Kentucky, you live with visual reminders of the legacy of Abraham Lincoln every day. He is our ubiquitous icon: statues, murals, and signs dot the state attesting to his connection to the Commonwealth.
Today, on the 207th birthday of our sixteenth president, I find myself thinking about a small and relatively unknown yet historic spot related to him: the Lincoln Homestead State Park.
This is the place where Lincoln's mother, Nancy Hanks, grew up and where she was purportedly courted by Thomas Lincoln. Thomas supposedly proposed to Nancy on the site. The park has a few original structures as well as replica buildings. The original home owned by Moredecai Lincoln, the president's uncle, still stands here.
Below is a shot I took of one of the historic buildings. Not that great, but shows you a little of what it looks like. Beyond this area and below it is a small creek, which is probably a feature which attracted settlement in the area.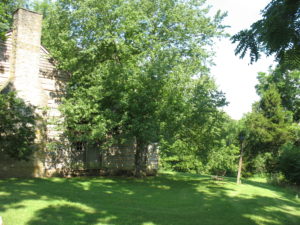 This is not a big place–its main attraction seems to be a golf course to the south of the historic sites. There is also a picnic area slightly to the north of the historic area, along with a playground. This was the view a few summers ago across the road from the picnic/playground area: a vinyard!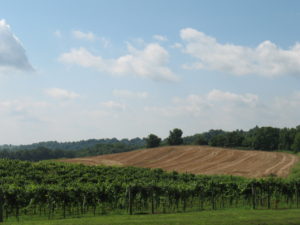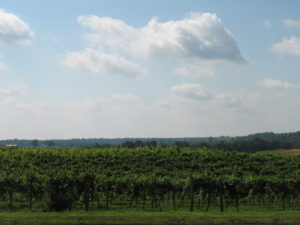 I noticed the park on a map a few summers back and visited. It is not far from where I live (within an hour), but it is remote. The physical address for the park is Springfield, Kentucky, a few miles to the southeast.
As it turns out, the park is slightly west where Bourbon Springs would be if it existed–slightly south of Willisburg.
Happy Birthday, Mr. President.