In a newsletter I sent out in November 2016, I wrote about the transition from the Bourbon Springs Series  to Bourbonland and the characters in the novella Single Barrel. For those that did not see that newsletter, here's more information about that story. Most of this was taken from the newsletter, but I have updated it for this post.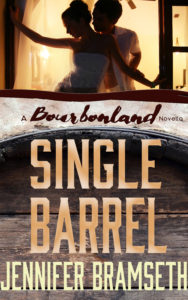 Although the cover doesn't show it, the story does take place during the holidays (from approximately mid-November through early January).
First, don't read Single Barrel before you read Water of Life. Spoilers!
Now, a bit of background for you about the novella.
There are two couples featured, one you've seen, one you haven't. Timewise, this novella overlaps with the last third or so of Water of Life (and, again, the novella does contain spoilers for that book).
The new couple (and they are front and center here, in the first scene, and have the most page time) will appear in the new series I am writing for release beginning next year.
That new series will be called Bourbonland.
Even though Water of Life is the last Bourbon Springs book, I didn't want to stop writing about Kentucky.  I wanted to expand beyond the confines of Craig County while connecting the worlds.
That's what Bourbonland does—in name and in the stories themselves.
Characters in the new series will not be located in Bourbon Springs, but in other towns in Kentucky—although there will be trips back there. And characters and couples from the previous books will make appearances in the new series.
The Epilogue of Water of Life features the first couple from Book 1 in the Bourbonland series. That book will be entitled Sharp Practice (this phrase pops up in Water of Life).
The new couple in this novella, Coraleigh Boyle and Clay London, will eventually get their own book in the Bourbonland series (they are not the couple in Book 1 of the Bourbonland series).
Why did I write about Coraleigh and Clay now? They showed up. Again.
Let me explain.
A few weeks after Angels' Share released in July 2015, I was on a plane home from a legal conference. By that point, I had actually written all nine Bourbon Springs books (they were not edited or formatted; that took lots more time), and I was already thinking about the next series.
On the plane, Coraleigh and Clay appeared in my head as characters. They were just there, in the opening scene of their book, and I wrote a substantial part of the first chapter of their book. They popped up a few months later; I wrote a bit more about them, but not much, and saved that bit of writing as well.
They showed up again in October 2016, demanding more. Sometimes characters do this to me. They show up and want attention (Rachel and Brady did this to me to start the whole Bourbon Springs series). I have learned to respect this phenomenon as a writer and just go with it. In fact, I stopped writing one of the Bourbonland books to write this novella (because Corrie and Clay would not leave me in peace—but I didn't mind).
And, minor spoiler or warning: Coraleigh and Clay's overall experience in this story is angsty, but they will eventually get their happily ever after. What they go through in this story will hopefully make their journey even more satisfying.
The couple you already know does have a happy story; if you read Water of Life (which you should read prior to reading Single Barrel to avoid spoilers), there is no big reveal here about them, only some more (and fun) detail about certain events in their lives.
And of course the end matter contains information about bourbon and Kentucky.