Distillery Cats
Distilleries are large, rambling places full of grain. With all that corn, barley, and wheat around, they are nice targets for mice.
Enter the distillery cat.
Many distilleries have their own cat. In September 2015 when I was at the Kentucky Bourbon Festival in Bardstown, I took the tour at Willett. They had at least three distillery cats. I can only recall the names of two: Noah and Rowan (named for various Willett expressions).
Noah is seen here in the distillery building itself, on an old church pew. His water and food bowls were underneath a reception desk opposite the pew. He was very friendly and enjoyed watching the tourists and being petted.
Woodford Reserve had a revered distillery cat, Elijah, who passed away a few years ago. He had his own special spot at the distillery, outside a building between the Dryer House and the old warehouse. I took these pictures in September when I was on a tour.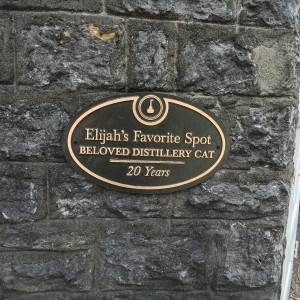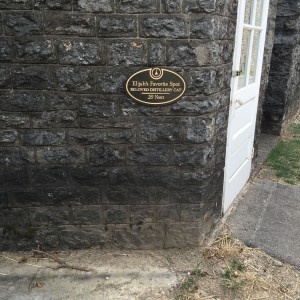 Why was the cat named Elijah? He was named for Elijah Pepper, the man who came to Glenns Creek in 1812 to farm and distill.
When I was at the gift shop at the distillery in the visitors' center one day, I got to meet Elijah's successor, Oscar. He was in a shopping basket underneath a wall of bourbon on top of a used bourbon barrel. He meowed once and was happy to be petted, but wasn't interested in raising his head beyond the edge of the basket. I didn't notice him at first. When I was checking out, the clerk kept turning around and looking at the wall. She finally said something about how the noise "doesn't bother him," and I finally spotted the cat.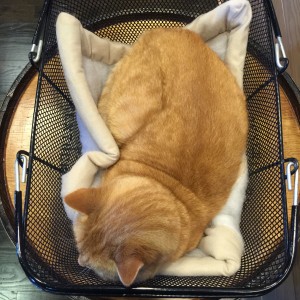 According to the clerk, Oscar stays at the administrator's house on the grounds. When he wants to leave the visitors' center, he goes to the backdoor (leads out onto the side porch) and waits to be let out.  We was a rescue cat.
And how did Oscar get his name?
Because Elijah Pepper's son was named Oscar. Oscar Pepper took over the distilling business after his father's death and built part of the original distillery building, which dates to the 1840s. The distillery was once known as the Old Oscar Pepper Distillery.
So does Old Garnet have a distillery cat?
Yes. In the Epilogue of Cedar and Cinnamon, the existence of the Old Garnet distillery cat is revealed, as well as the reason why there hasn't been a distillery cat in the series to date. The cat's name is revealed in Distilled Heat, and he makes one brief appearance in the book.
Sadly, one of us in the house is allergic to cats, so we can't have one. I'll just have to make do by visiting a few distilleries from time to time.
Giveaway!
I've teamed up with 25 bestselling romance authors to give away a huge collection of books to 2 lucky winners, plus a Kindle Fire to the Grand Prize winner!
You can win my novel Sharp Practice, plus books from two dozen other authors.
Enter the giveaway by clicking below. Good luck! This giveaway ends March 22 so hurry and enter.
http://www.readerarmy.com/giveaways/spring-into-romance/
News
Pinterest boards updated and reorganized! Lots of cool new stuff to discover.
Interested in getting notified when I have a new release? Text jenniferbramseth to 555888. You'll only get a text when there's a new release.
Free and Fun For You
Join the Old Garnet Sipping Society, my Facebook readers' group, to get a free short story and background info about the stories.