One of the best things about writing is the opportunity to put real places into my books.
While towns like Bourbon Springs and Littleham are completely fictional, they are nonetheless inspired by real spots I routinely visit.
Devil Springs also has a real-life inspiration spot. Or two.
So let me introduce you to two of my favorite places, two classic small towns in Kentucky: Carrollton and Cadiz.
Carrollton is the seat of Carroll County, Kentucky. Originally named Port William, it changed its name in 1838 when the county was created from neighboring Gallatin County. The town is nestled on the southern banks of the Ohio River and the eastern banks of the Kentucky. The confluence of these two great rivers is slightly west of the downtown area.
The confluence is easily accessible at Point Park, a city park (amazing 360-degree view of the confluence and park). It is a lovely spot, with playgrounds, picnic tables, open spaces, a small dock, and a boat launch.
It is also a historic site. A blockhouse or fort was built here in 1789 by then-General (and future Kentucky governor) Charles Scott.
The courthouse inspired the courthouse in the Devil Springs.
In far western Kentucky is the town of Cadiz, the county seat of Trigg County. The town is minutes away from Lake Barkley State Resort Park, inspiration for Lake Pembroke State Resort Park in Secret Blend and Lake Shelby State Resort Park in the Bourbon Springs and Bourbonland worlds.
There is a relatively new courthouse in Cadiz, one being built in the past ten years. The old one was very small, and I recall there was a storage shed around the side that bore the tongue-in-cheek sign of COURTHOUSE ANNEX.
But it is the town layout of Cadiz rather than its courthouse that inspired the general feel of Devil Springs. Cadiz has several antique shops along its main street, as does Devil Springs. In fact, the sleuth in A Devilish Punishment, the first Devil Springs Book, shops in antique shops along with another major character. They also stay at the local state resort park.
A Social Request
Could you follow me and like my Facebook page if you're on various social media platforms? I would really appreciate it!
Amazon, BookBub, Pinterest, Instagram, Facebook, and Twitter links to my profiles/pages.
Fun and Free
Bourbon Springs Box Set I is still free–that's three books (Secret Blend, Filtered Through Blue, and Angels' Share) plus a short story (Secret Sauce) all in one for zip. Nada. Zero. Nothing. I will probably be putting these back to paid soon, so get these while you can.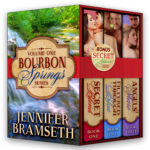 Join the Old Garnet Sipping Society, my Facebook readers' group, to get a free short story and background info about the stories.