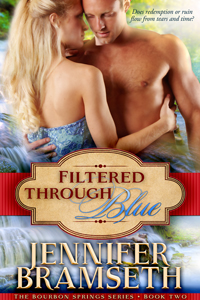 Filtered Through Blue (Bourbon Springs Book 2)
Bourbon heiress Hannah Davenport and Sheriff Kyle Sammons have a history and share a secret. She's carried the burden in private while he's shouldered the weight of disapproval in public. But perhaps finally time and tears can wash away the pain of the past.
Filtered Through Blue is the second book in the Bourbon Springs Series. Buy links and music playlist below.
Playlist
Constant Craving by k.d. lang
Ordinary World by Duran Duran
Take Me Home by Phil Collins
The Crow by Steve Martin