The Bourbon Springs Box Set: Volume I, Books 1-3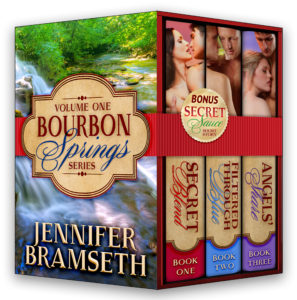 Get the first three books and short story in the Bourbon Springs Series in one box set.
Classic small-town romance–with a splash of bourbon.
FREE FOR A LIMITED TIME
Includes Secret Blend (Book 1), Secret Sauce (Short Story 1), Filtered Through Blue (Book 2), and Angels' Share (Book 3).
400+ 5-Star Amazon Reviews
(actual reader reviews)
"Pure joy to read!"
"This set raised MY spirits!"
"NOTHING has given me, a reader, so much enjoyment as [these] books."
"I loved the way each book centered around one couple, but included other characters in a way that flowed right into the next book."
"Complexity of character development that a lot of romance stories don't have."
"Great characters that you can relate to."
"Excellent weekend read."
"Loved the characters, history."
"Like Debbie Macomber just hotter."
"Such a sweet story sequence."
"I love the history infused into these stories."
"Beautifully written."
"Three of the best books I have read in a long time."
"Funny sexy hurtful thought provoking…"
"Beautiful series"
"The perfect balance of love story and family story"
Available at these retailers