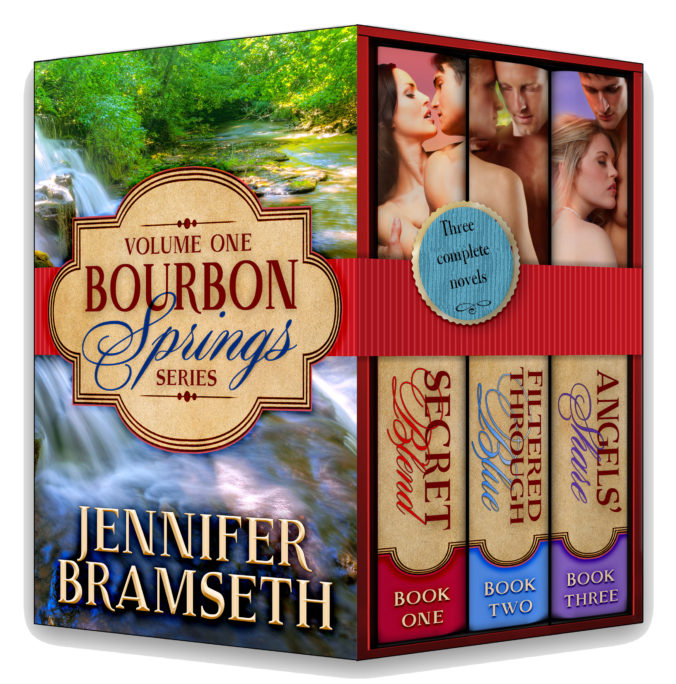 The Bourbon Springs Box Set: Volume I, Books 1-3
Classic small-town romance–with a splash of bourbon.
Includes Secret Blend (Book 1),  Filtered Through Blue (Book 2), and Angels' Share (Book 3).
400+ 5-Star Amazon Reviews
(actual reader reviews)
"Pure joy to read!"
"This set raised MY spirits!"
"NOTHING has given me, a reader, so much enjoyment as [these] books."
"I loved the way each book centered around one couple, but included other characters in a way that flowed right into the next book."
"Complexity of character development that a lot of romance stories don't have."
"Great characters that you can relate to."
"Excellent weekend read."
"Loved the characters, history."
"Like Debbie Macomber just hotter."
"Such a sweet story sequence."
"I love the history infused into these stories."
"Beautifully written."
"Three of the best books I have read in a long time."
"Funny sexy hurtful thought provoking…"
"Beautiful series"
"The perfect balance of love story and family story"
Available at these retailers
Curious about the series reading order?
Click on the rose below to go to the list.