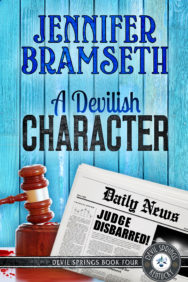 When the Supreme Court asks for help, it's an offer she can't refuse…
Buford Blankenship, the worst attorney Greer Galloway ever prosecuted is back–and the supreme court appoints her as special counsel in his quest to be re-licensed. It's a thankless  task on top of her regular job as Bain Circuit Court Clerk.
Then as Greer is preparing her case, she gets the that her office has been randomly chosen for an audit. Which just happens to be scheduled to begin the first day of Buford's hearing.
There's no shortage of people who hated Buford: an ex-wife, a former law partner, and the judge who replaced him on the bench. Not to mention Greer herself.
It looks like Buford is on his way to getting his license back after a key witness against him disappears. But then someone else goes missing, throwing the entire case into chaos, as the audit threatens to become a personal and professional disaster for Greer.
A Devilish Character  is the fourth book in the Devil Springs Cozy Mysteries Series.