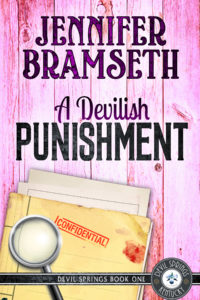 Prosecuting a pervert. A dead mentor. A new boss. What else could go wrong?
Lillian Booth is pushed to her limits when she's assigned the worst yet most important case of her career. Trying to disbar a lawyer who abused his clients for years behind closed doors.
But after a series of sinister events, she's forced to co-counsel with Henry Alton, a man who detested her beloved and now-deceased mentor.
Lillian and Henry have one goal. To win.
But Lillian fears failure if she and Henry can't get along. And to get along requires her to uncover the origin of Henry's hatred.
Then survival becomes more important as a mysterious attacker targets them as the case races toward a possibly deadly conclusion.
A Devilish Punishment is the first book in the Devil Springs Cozy Mysteries Series.