Welcome!
Hello and welcome! I'm Jennifer Bramseth, author of small town contemporary romances set in the Land of Bourbon and Bluegrass. I am a native Kentuckian and life long resident. I am inspired by where I live and hope that feeling is manifest in my stories.
The Bourbon Springs Series is nine books long. Click here to see the reading order for all my books and stories.
My current series is Bourbonland, a connected-world series to Bourbon Springs. The newest Bourbonland book is Executive Liaisons, Bourbonland Book 4, released October 30, 2018.
And–big announcement!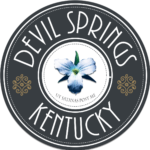 I will be releasing a new series, the Devil Springs Cozy Mysteries, starting with A Devilish Punishment (Devil Springs Cozy Mysteries Book 1), on November 6, 2018! This is a five-book series, with a small collection of short stories. And where else would it take place but in Kentucky? This series is a connected world to Bourbon Springs and Bourbonland.
Check out the series' Pinterest boards, find me on Facebook, Twitter, and Instagram. On some book pages you'll find music playlists. I also have fun stuff for sale with logos from the books  on CafePress and Zazzle. You can find small flasks with the Old Garnet logo (the bourbon made in the fictional Bourbon Springs, Kentucky) and a T-shirt taken right from the pages of the books (It's Better With Bourbon).
Join my Facebook readers group, the Old Garnet Sipping Society, to chat about the books. I post excerpts, updates about the books and stories, and inspiration for places and characters.
If you want to get new release text alerts, just text jenniferbramseth to 555888. You'll only get a text when I have a new release.
Thanks for dropping by and all the best,