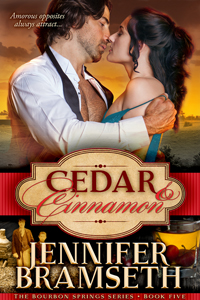 Cedar and Cinnamon (Bourbon Springs Book 5)
Harriet Hensley and Goose Davenport don't share much in common–or so people think. But after one wonderful, secret night, they're not allowed to see what happens next. Years later, can they pick up where they left off?
Cedar and Cinnamon is the fifth book in the Bourbon Springs Series. Buy links and music playlist below.
Playlist
Shine by Breaking Grass
Beautiful Night by Paul McCartney
Give it All We Got Tonight by George Straight
You Don't Run Across My Mind by Irene Kelley