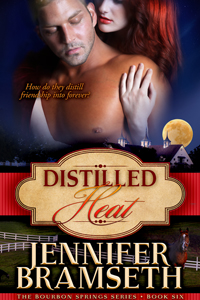 Distilled Heat (Bourbon Springs Book 6)
Pepper Montrose has only known bad luck for most of her life. But when incredible good luck strikes, her life is irrevocably changed by  unexpected good fortune–as well as an unexpected encounter with Jon Buckler, her life long best friend. But with such changed circumstances and lives, can they move beyond friendship?
Distilled Heat is the sixth book in the Bourbon Springs Series. Buy links and music playlist below.
Playlist
Heat Rises by Dallas Smith
Blue Moon of Kentucky by Elvis
My Old Kentucky Home by Stephen Foster