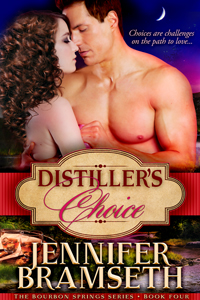 Distiller's Choice (Bourbon Springs Book 4)
CiCi Summers isn't used to being the center of gossip in Bourbon Springs and she doesn't like to date divorced guys. But she can't resist Walker Cain, the new master distiller at Old Garnet. Will her choice to make an exception for the new guy in town be the right one?
Distiller's Choice is the fourth book in the Bourbon Springs Series. Buy links and music playlist below.
Playlist
Miss Chatelaine  by k.d. lang
The Mind of Love by k.d. lang
Moonlight Swim by Elvis
Don't Dream It's Over by Crowded House
The Look of Love by Chris Botti and Chantal Kraviazuk
Take Me Home by Phil Collins