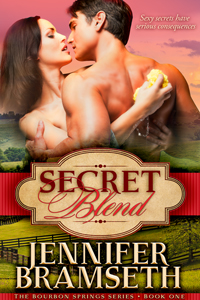 Secret Blend (Bourbon Springs Book 1)
In a smoldering tale of law and love, brand-new judges Rachel and Brady start a secret, passionate romance behind chamber doors. But it's hard to keep a secret in Bourbon Springs, Kentucky…
Secret Blend is the first book in the Bourbon Springs Series–and you can get it for free at any of the retailers below (and check out the book trailer below too as well as the playlist).
"The story and characters were perfect. The author made me feel like [I was] right there in Kentucky. I love an author that has that kind of ability."
"Fabulous characters and perfect small town feel."
"Completely addicted. Bourbon Springs is a magical place."
(Five-star Amazon reviews)
If you're interested in the reading order for the whole Bourbon Springs Series, plus the Bourbonland Series, click here!
Playlist
Am I the Same Girl? by Swing Out Sister
Good Vibrations by Brian Wilson
Les Fleurs by Ramsey Lewis
Rubberneckin' by Elvis (Oakenfold remix)
Time and Tide by Basia