Barrel Proof (Bourbonland Short Stories and Novellas #4)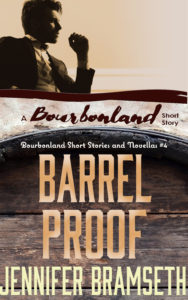 So much for staying away from each other.
When Coraleigh Boyle seeks out Clay London to beg him to help her to stop the destruction of a Civil War battlefield, she gets the reaction she expected. A gentle but decisive rebuff. Not to mention a painful reminder of her broken heart.
But she's not the only one trying to stop the destruction. The denizens of Craig County are plotting and planning to save the site as well.
Yet there is an unexpected, unknown hero. One that Coraleigh discovers only after a chance encounter with residents of Bourbon Springs who take a rare tour of her historic estate, Traveler's Rest.
Coraleigh's guests remind her that the strength and proof of one's character is discerned in the smallest of ways. Especially when one tries to hide one's true nature.
Barrel Proof, a  17,000-word short story, is the fourth work in the Bourbonland Short Stories and Novellas series. It takes place during Where the Fire Is Hottest, Bourbonland Book 3.